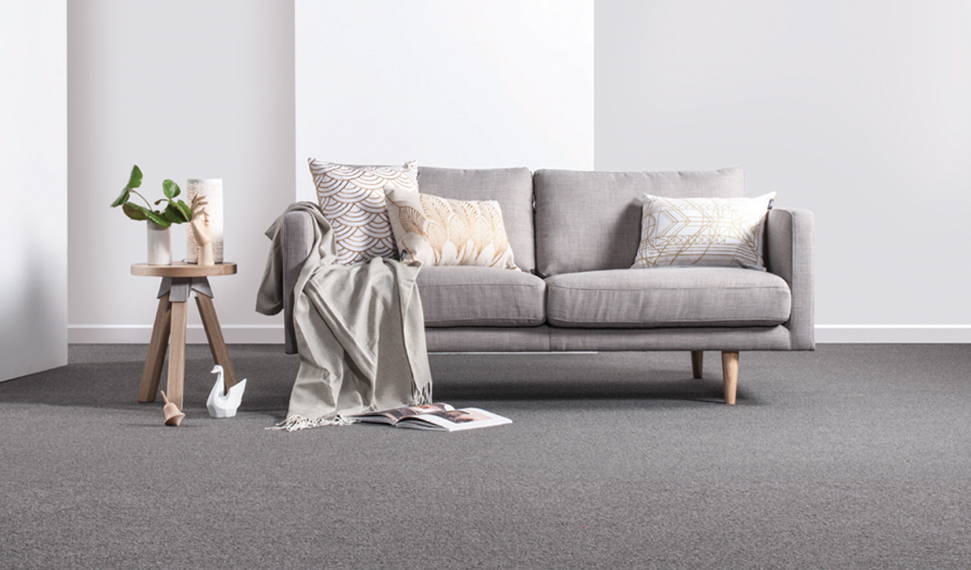 Our quality carpets are sourced from reputable carpet manufacturers around the world. The products we supply are made from only the highest quality materials available on the market. We also support the use of locally sourced and environmentally friendly carpet fibre and products.
Our excellent range of materials includes wool, solution-dyed nylon, Triexta, studio carpet, and polyester carpet. No matter your need, we supply carpets suitable for every house condition, including fade-resistant carpets that are protected against sun damage, durable designs suited for stairs and flooring. These features will extend the life of your carpet floor and withstand the wear and tear of high traffic areas and a bustling household. We also provide a 100% stainproof and odour resistant solution-dyed nylon carpet range, so families can breathe a sigh of relief knowing that stains and spills aren't forever! From attractive two-toned styles to patterns inspired by nature, our carpets are suited to all classic, modern, and contemp orary home designs, with a wide range of colours to choose from. We supply only the best carpets for our customers because quality service is our number one priority. Explore our range of residential carpets online here, or come into Auckland showroom to view our carpet samples and talk to our friendly staff today. We'll help you find the perfect residential carpet for your needs!
Liquid error (templates/page.gem-59837415469-template line 9): product form must be given a product
A natural fibre from sheep, wool is renewable and sustainable.

Wool carpets have a natural and soft luxurious feel.
The unique fibre structure is strong and hard-wearing and provides natural protection to help resist staining and soiling.
Wool carpets absorb noise so are quiet and naturally flame retardent so are safe. Wool's natural properties help keep your home cool in summer and warm in winter.
Wool fibres are natural, renewable and biodegradeable.

A synthetic fibre that helps resist fading from the sun and is stain resistant.
Available in a wide range of vibrant colours with long lasting colourfastness.
Fade resistance that is built into the carpet and doesn't wear off, giving you the confidence to open up your home and let the sun shine in!
Great stain resistance properties that make it easy to clean.
Nylon carpets provide long term resilience, durability and stain resistance.
As nylon fibres readily accept dye they have a large colour palette.
Is a versatile fibre type that can be made in many carpet styles.

Liquid error (templates/page.gem-59837415469-template line 9): product form must be given a product
A new fibre made with 37% renewably sourced polymer from corn sugar*
Extremely soft, it provides high stain, soil, wear and colourfast performance.
Triexta fibres are made with polymer from 37% corn sugar*.
*DuPont Sorona contains 37% renewably sourced ingredients by weight.Greenhouse gas emissions from the production of Sorona are 63% lower than nylon 6.

A less expensive synthetic fibre.
Polyester carpets are less expensive.
Beautifully soft, they are well suited to low traffic areas.
Are less luxurious but still soft and provide good colourfastness.

Liquid error (templates/page.gem-59837415469-template line 9): product form must be given a product
Polypropylene is a less expensive synthetic fibre manufactured from man-made materials.
Polypropylene carpets are less expensive, colourfast and resist most stains.Usually manufactured into loop style carpets, they are great for low traffic areas.